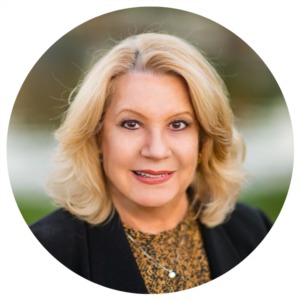 Over 40 plus years in the Real Estate business, I have been a resident of Orinda, Lafayette, Walnut Creek, Danville, San Ramon and currently live in Rossmoor.  Born in Kansas City, Missouri, I spent high school in Dallas, Texas and attended the University of Texas at Austin.

I am happily married with three wonderful, grown children.  I have experienced the loss of loved ones, divorce, major cross country moves, and many "transitions" in life.  I understand the challenges that come our way, knowing many can be exciting, sad, painful and wonderful.

I am a Senior Real Estate Specialist(SRES*) and Rossmoor Specialist.  I have represented both Buyers and Sellers in Rossmoor.  I am here for you every step of the way throughout your individual transitions.

As an agent who's an expert in this local area, I bring a wealth of knowledge and expertise about buying and selling real estate here.  It's not the same everywhere, so you need someone you can trust for up-to-date information.  I protect your interests and negotiate in your behalf, informing you of many different options and strategies.  I'm eager to serve you.  Here are some of the things I can do for you:
Find Your Next Home
You need someone who knows this area inside and out!  I can work with you to find the right home at the right price for you, including all the neighborhood amenities that matter – not to mention the essential criteria you have for your ideal home

Sell a Home
When it's time to move, you need someone who will advertise your home, show to prospective buyers, negotiate the purchase contract, arrange financing, oversee the inspections, handle all necessary paperwork and supervise the closing.  I can take care of everything you need, from start to close.

Consult on Home Selling Tactics
Oftentimes buyers don't visualize living in your home the way you do.  I can make your home attractive to its ideal audience – which can help you get top dollar.  Things like staging the home, making repairs or minor improvements, or even simply painting the walls can be the difference between a home resting on the market and one that's sold fast.
My Specialties:
Listing Agent. Buyers Agent. Senior Real Estate, Rossmoor Community, Luxury Homes, Relocation and First Time Homebuyer Specialist. Short Sale, Foreclosure, REO and Banked Owned Property Specialist. Investment, Income, Rental and Multi-Unit Property Specialist.

 — The Smithson Family, Buyer
Thank you so much for being a part of this journey. You helped make our dreams come true. There were some rough patches, but you stood with us.  You gave us the knowledge on how to purchase a home. This is valuable knowledge we can pass down to Bella. We laughed, cried, and mostly had a good time. We hope to stay in touch. Thank you for the memories. Till we meet again!

 — Charles and Lenise Wimborough, Seller
Recently my husband and I, as executors of my father's trust estate, were charged with selling his home following his death at 95. Neither of us had had any experience selling or purchasing a home in over forty years and we had no idea whom to contact. It was our very great fortune to meet Mae Wandell, an agent of 30 years in the Danville area.
Mae immediately literally took us by the hand and led us through the process of selling a home in the current real estate climate in California. On her excellent recommendations, we prepared Dad's home, where he had lived since 1961, for staging, photography, listing, and showing. Mae's instructions were direct, easy to follow, and perfect for our needs, and the stager she selected for showing the home was excellent. She also used the internet extensively, placing the home description and photographs on multiple listing sites.  We had 9 firm offers within 10 days of listing.

Mae used her skill and knowledge to offer suggestions and recommendations as we sorted through all the offers. Recognizing my personal desires, she quickly recognized my personal needs at selling my family home, and efficiently and skillfully achieved a contract with the buyer's agent, to whom I wanted to sell.

And then Mae took charge of everything else, advising us of dates and times of contract signing, sitting next to us through the whole process. She kept us fully informed at all times, giving perfect estimates of closing dates.
 
The honesty and integrity of Mae Wandell must be unmatched in the industry.  We are so grateful for her caring concern for our needs, but also for her professionalism. We could not have chosen a better real estate agent for our needs. We highly recommend Mae to anyone who wishes to sell or to purchase property.

 — Darin and Merritt Lowder, Seller
This letter is to serve as a thank you for the service you provided us, as well as a letter of recommendation to anyone who would consider choosing you for his or her realtor.
We were struggling for months with the sale of our home, and were coming under a tight time frame due to our new house being built out of state. We were uncomfortable with having to make the decision to switch realtors (who was a personal friend of ours), but we knew it was the right thing to do – the tough question was then, "Now who?"
After our first meeting with Mae, we knew she was what we needed. She immediately staged our house – rearranged furniture in the family & living rooms, along with the bedrooms, brought in some of her own furniture and lights, moved pictures on the wall around, etc. NOW our house looked ready to sell!
We didn't think we'd make it, but we sold it two days before our new house closed which was critical for our loan. The Buyer's realtor was difficult to work with, and Mae had to steer him through much of the process! When problems came along, Mae was there to take the worry away from us, resolve the issues, and work at getting a fair price for us.
We now know from experience, there IS a difference in realtors – from negotiations, to administration of the many details, to connecting with us personally to ease our anxiety – and Mae is the complete package. She is professional, friendly, and understands the importance of keeping the client informed of the details, yet not bothered by them, throughout the sales process.
We are happy to recommend Mae Wandell to ALL our friends and family!