Benefits of Tax breaks for next year by buying a home before the end of the year-
Tax breaks accompanying homeownership have been one of the big pushes in the housing market.
If you have been considering buying or selling a home before the end of 2017, then this blog could shed some light on the benefits and even pitfalls.
Winters can be good time to buy-
Historically speaking, spring and summer months are usually the hot months in real estate activity.
But for those who missed the boat at that time of the year, Home buying in November is still a healthy choice and can still benefit with tax breaks for the next year !
October and November are still good months to buy, although December the inventory gets slim but if this is the month that suits your timeline, then it could be that luck is on your side.
Benefits of Tax Deductions-

If you close your loan by December 31st, you can deduct your mortgage interest, points you pay on the loan, property taxes, interest and closing costs, costs for inspections.
These deductions can be significant savings, especially in the early years of the loan when you are trying to pay off a lot of interest.
Don't forget that the sellers who are in the market at this time are also considering purchasing another home and may be motivated to move their home so they too can buy before the end of the year.
New Home Builder Opportunities-
Many builders who are looking to meet their sales quotas at the end of the year, are motivated to sell their standing inventory with deeper incentives.
FYI, not all builders have their fiscal year coincide with the end of the current year but those that do, might be motivated to move homes in their standing inventory.
Credit Repair solution for Buyers-
We also come across buyers who are strapped due to credit issues and we have good luck using Platinum Credit Solutions.
They have helped our clients in the past resolve their credit issues, so they can qualify for a good loan to purchase a home.
If you are having credit issues but want to buy a home before the end of the year, give Platinum Credit Solutions a consideration.
There are a lot of credit repair companies but I am just sharing our great experience with this company.
New Proposed Tax Reform and how it affects Housing in the U.S.-
With the new tax reform proposal, it would hurt homeowners in their deductions but the CALIFORNIA ASSOCIATION OF REALTORS® is pushing hard for a reform of the tax bill.
California Realtor® are taking proactive measures to increase inventory throughout the state by placing a measure on the November 2018 ballot.
This ballot's agenda is to remove restrictions on homeowners who wish to sell their homes and transfer their current tax basis to their new property.
All Realtors® in California are actually financially contributing, in lieu of increased dues, to pay for the costs of putting this measure on the ballot.
If you are looking to sell or buy a home in the bay area, please give us a call at 925.415.0835 and we will give you all the information you need to make a wise decision for yourselves and your family.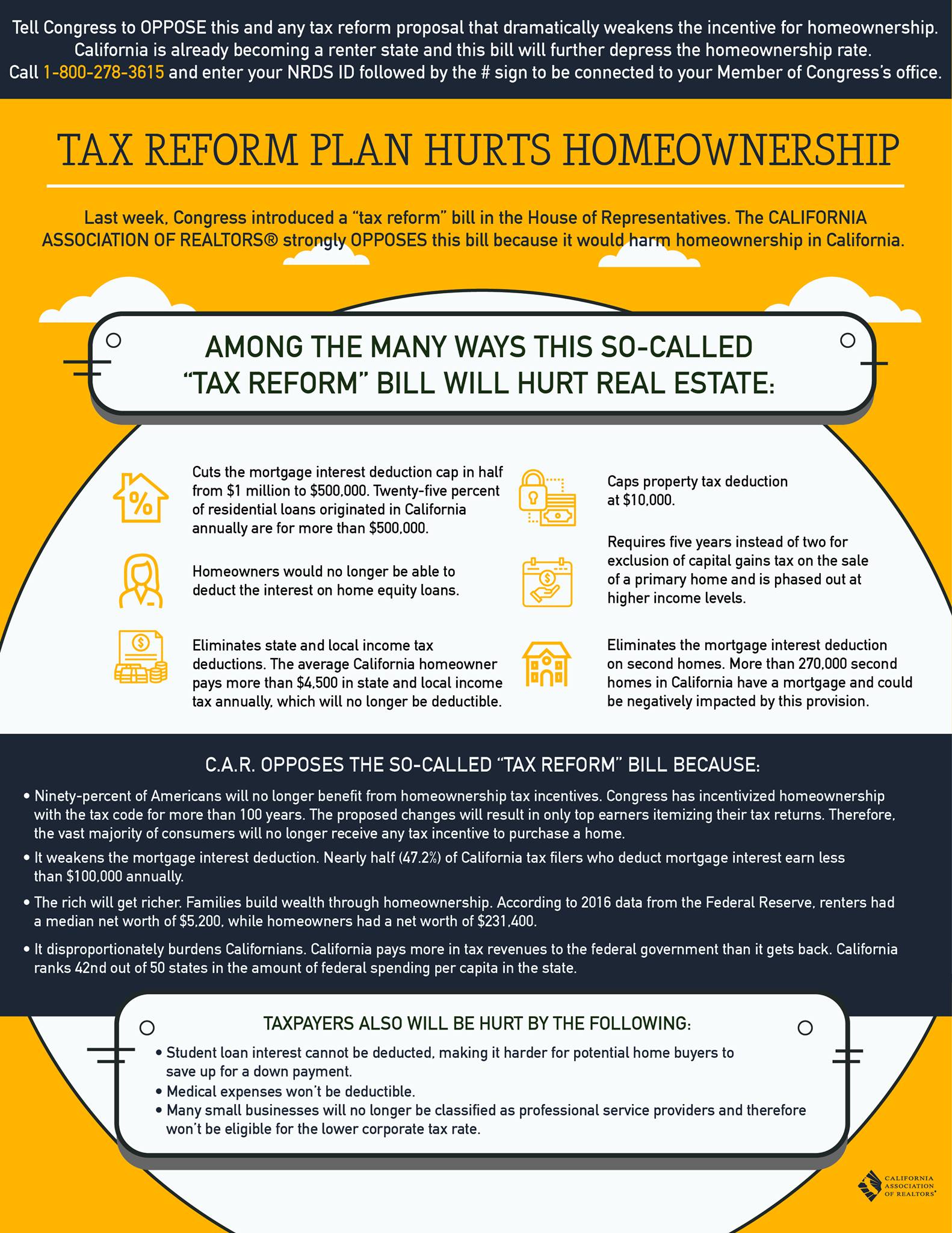 Image Courtesy of CALIFORNIA ASSOCIATION OF REALTORS®