Ignacio, Vanessa and Mar, First Time Buyers in Concord!
Ignacio and Vanessa are a lovely couple from Spain with a one and a half year old baby named Mar. They were renting in San Francisco and decided it was time to settle down in the suburbs. After searching both resale and new construction, they decided that brand new was the way to go! After patiently waiting for their townhome lot to be released, finally the corner lot with the sun was reserved and they were in contract! With their front door opening to the community park, this is the perfect scenario for their beautiful little daughter, Mar. Not to mention there's a great preschool RIGHT next door! Visiting the design center to pick out their flooring, paint, cabinets, countertops and more was especially exciting because they customized it exactly how they wanted to. I know Ignacio and Vanessa will be extremely happy in this wonderful new community for years to come. It's a pleasure to help such lovely people establish themselves as first time home buyers in the Bay Area!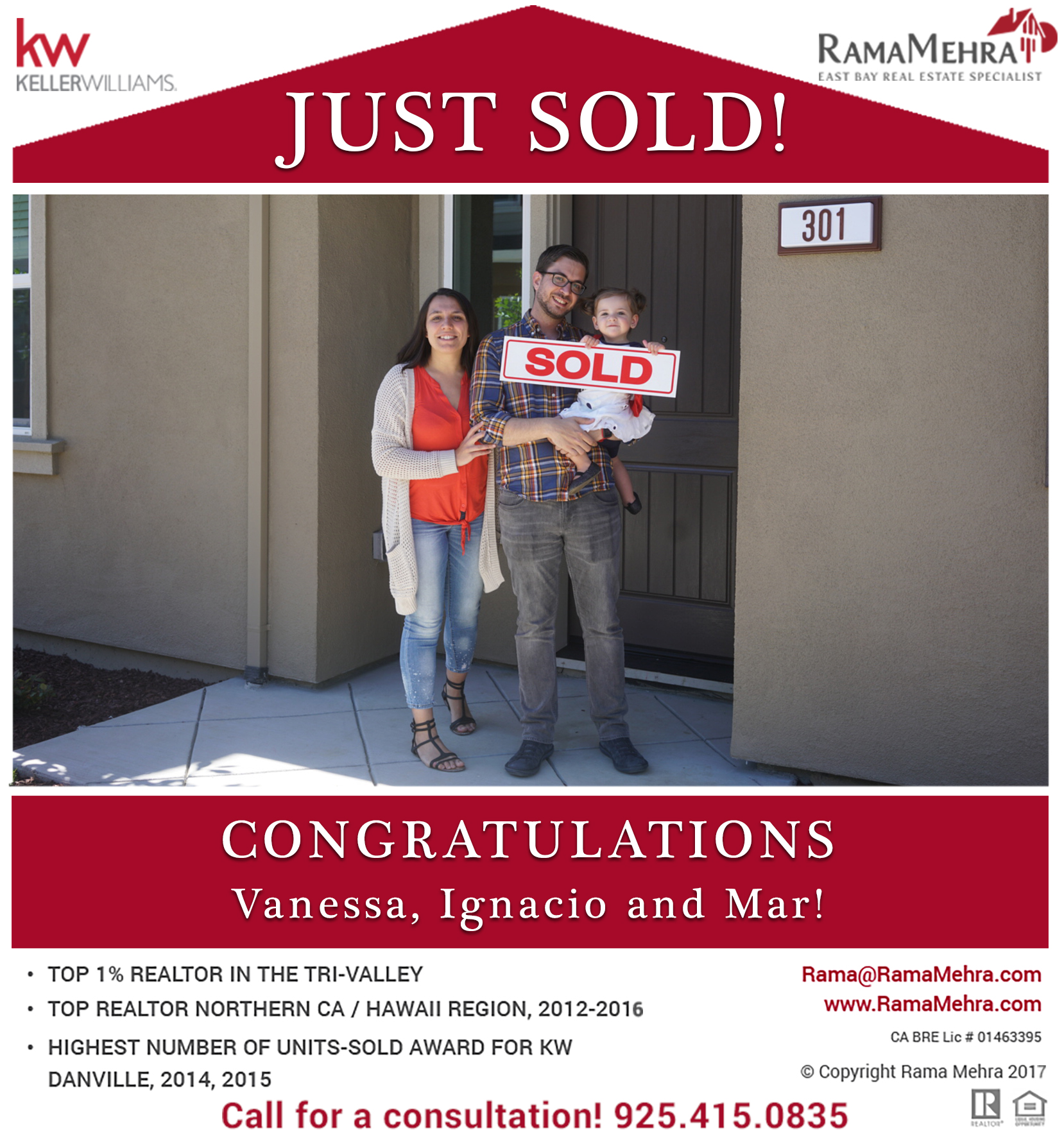 Gans and Chitra – Home Sweet Home in Windemere, CA
Our luxurious Windemere listing was JUST listed on the MLS and that day, we got multiple calls to to show eager buyers. We met Gans who had just closed on selling his home a week ago. He instantly fell in love with our listing – what was not to like! It backed to green rolling hills, had a gorgeously manicured backyard, a bed and bathroom downstairs – a desirable feature – and was a block from the elementary school that his youngest daughter would attend. I knew he was serious when I saw him the next 3 days consecutively at the house! He came to Broker's Tour, Twilight Tour, Open House, and even one evening to show his whole family. He has many friends in the area including some of our past clients. Despite other offers, Gans' came in very strong and was happily accepted. I am ecstatic that the match for Gans and his family to this home was perfect. Real estate is all about timing! I know Gans and his lovely family will be happy there for years to come.